Care and Feeding of your

Texas Standard Poodle,
Doodle or Anatolian
All of our puppies come with a starter food pack from TLC Dog food,  wormings at 2, 4, 6 and 8 weeks, and first puppy vaccinations, and a health guarantee. 
First Generation Doodles are 50% Standard Poodle and 50% the other breed, they are referred to as F1 Doodles. This first generation CAN shed, although many do not. Poodles are the true non-shedding dog, but are more high energy. If you are looking for a laid back dog that has the hypoallergenic qualities, you will need F1 or F1b Doodle or a purebred Standard Poodle. All dogs and animals for that matter can cause allergenic reactions in people. Whether they shed or not, all dogs produce dander and the dust on their hair/skin along with pollutants that are in the environment do sit on their hair and skin. Bathing and brushing them often them will  reduce this as well. Dogs require brushing and grooming to remain clean, just like people. They need their face washed and shaved periodically.
POODLES/DOODLES REQUIRE REGULAR GROOMING
Owning a pet is a responsibility so please do not consider this breed if you are not going to be able to groom this dog or have it groomed regularly by a professional. Grooming yourself is TOTALLY FEASIBLE and can be a the most rewarding and enjoying experience of owning these dogs.  Watching grooming videos on Youtube will give you an idea about how the grooming process works, you may find that you or your family members actually enjoy it! Shaving around their mouth and privates keeps the bacteria levels down and they will be cleaner in general this way. It builds trust between you and your pup. All pets need grooming but Poodles and Doodles are in the more advanced level of pet care. Starting young with a professional groomer will build trust in the process and your groomer may even require it! Start booking their first grooming appointment early because they are many times booked up for weeks. Their health depends on it.  If grooming is not your thing: Get an Anatolian!
OWNING A DOG IS A BIG RESPONSIBILITY. Rehoming a dog is difficult and many times does not work out. We recommend watching this video and ask yourself if you have the time and energy for these things. Dogs add JOY to your life, but they also add some work and preparation. 
This video hits all the points. We highly recommend all dog owners watch it, even if you have had dogs for years! We learned a few things.

"If you imprint the immune system incorrectly, it will never work correctly again."
Dr Ronald D. Schultz.
– Vaccines –
We do give two puppy shots to our dogs before they leave and many will continue to vaccinate them after they go home. We believe that protecting them from bacteria for the first year will keep them healthiest in the long run. Dog parks and other public spaces are loaded with really bad germs/bacteria. 80% of all animal illness is caused by the 400 or more different bacteria that can lead to corona virus.  But over-vaccinating your puppy can damage the immune system and kidneys, causing many irreparable health problems rendering your puppy/dog less able to fight off things that come around at the groomer or the vet's office.  Vaccines can also cause autoimmune diseases such as lupus, red cell aplasia, autoimmune hemolytic anemia cardiomyopathies; neoplasia such as fibrosarcoma, mast cell tumors, thyroid tumors, inflammatory bowel disease, eczematous ears, dermatological conditions, warts, lipomas, poor hair coats, stomatitis, periodontal disease, thyroid disease, and the list goes on. Your warranty covers only genetic defects, not over vaccinations or compromised immune once the shots are given.  We give our puppies their foundational vaccines and find that gently exposing them to nature is the best way to develop their immune system. Their best defense is good nutrition, clean water/environment, and a strong immune system.

Getting Ready for your Pup
ADJUSTMENT TIME: When you arrive home, please do not overwhelm your puppy with a lot of activities such as taking them out to a dog park or having lots of visitors. There will be plenty of time to show off your puppy after he/she has adjusted to its new family and surroundings. It is best NOT to make the entire house available to the puppy immediately. Start with putting the puppy in one small room where he/she and go in and out easily, ideally a room with a doggie door to the outside. This will get them started on the right food and will keep everyone happy throughout the puppies transition to the new home. You can little by little start making other rooms available once the baby has established a habit of going outside to use the bathroom.  Standard Poodles are very smart and will learn these things quickly, but getting them to stick, that takes time.  Have plenty of cleaning product and paper towel available and you will be fine! 
---
FOOD: At Texas Standard Poodles for Dry food we feed the puppies TLCPetfood for puppies. There are many great dog foods available but if you choose to try something else please remember to do it gradually to avoid digestive problems.
Here is an article that explains why you will not find TLC in a pet supply store – ZERO RECALLS!!
We do not feed our babies wet food unless they are gaining weight slowly, then we use various grain free foods for puppies twice a day.
We order most of our puppy foods and supplies on chewy.com and order all of our dry directly from TLCPetfood.com
---
WATER: Your puppy will need to have purified/ filtered water.  This is so if there is stomach upset you know it is not from the water.  So if you switch to tap water, your puppy may can get loose stools for a period of time and may even acquire a bladder infection. We recommend clean, purified water available to him/her at all times.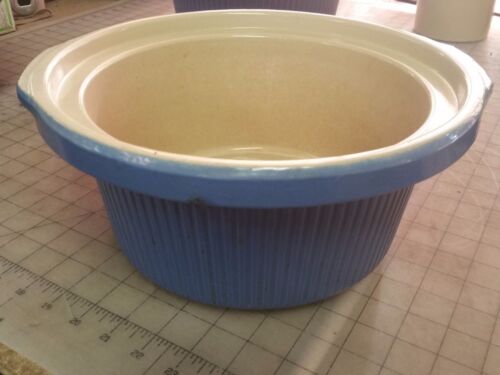 Our favorite water bowl: the crock from a crock pot – $4 at Goodwill and won't tip over! 

---
GROOMING: We recommend using a soft slicker brush to groom your poodle daily. They love the attention and this regular grooming will keep them used to being groomed, which will be nice when they becomes adults and need that grooming. Clip nails on a monthly basis to keep your poodle from scratching the wood floors.
---
CHEW TOYS: Please refrain from using RAW HIDE chew toys, the puppies can swallow large pieces of this and get choked. We do not recommend these at all! There are many great chewable toys/bones available but if you choose to try something else please remember to avoid bones that are sharp or that may be swallowed or broken down quickly. Hard Rubber toys are better (Kong is a good one) so they do not injest anything harmful to their intestines.   Toys in general can be dangerous, so please be mindful of the types of toys you leave for your baby to play with: long strings can choke, or even be swallowed, or cut off circulation on limbs. They will be little toddlers when they come home and they will get into everything.
CAUTION:
Electrical cords are toys to chew on for puppies. To keep your poodle safe, you can purchase the black loom split tubing, and slip it over your cords. You can purchase it from Amazon.com. HERE
---

POTTY TRAINING:
Crate training your Standard Poodle is a great way to teach your puppy that they have to wait to use the bathroom outside. You need to remember that their bladder can only hold so much and you should not put food and water into the crate, it will cause the need to urinate. So when they are out, offer food and water. You can leave them one hour for every month of age: a 6 month old puppy can be left 6 hours in a crate (basically overnight) at that point. But not before then! 3 months, 3 hours. 4 months, 4 hours. It takes them time before they can go all night without going to the bathroom. So please be mindful of this and be careful that you do not set the wrong expectation for your puppies, setting it up to fail. They are smart dogs and will require training. We also recommend using the Bell technique to get your pooch to tell you he/she needs to go out. But when all else fails, you can leave out this artificial grass pee pad, to give them a place to go if you are not home or  in case you don't get to them in time. They are available on Ebay and other places.
Fezep Artificial Grass, Dog Pee Pads

If you have other pets, introduce them in small increments. The move and everything else will be a BIG SHOCK for some at first.  Bringing them out to play together while supervised will help them all make friends and have positive exchanges.  If you give them a little time and space for the first couple of weeks it will help them to avoid getting a cold (like toddlers do). 


TLC Petfood delivers for free and so does Chewy!!
More on Foods…..
When it comes to good health for your Standard Poodle: it is ALL ABOUT THE FOOD/ WATER.  We only give filtered/bottled water to our dogs and we offer our puppies dry TLCPetfood.com Puppy/Dog food.   It is good quality and less expensive than many national brands.  But it is only available online. 
'Sydney'
TLC WHOLELIFE PUPPY AND DOG FOODS : We love this food and it is a bit less expensive than many other high quality dog foods. TLC will auto ship for free and their food is from puppy to adult dog stages.  Our buyers qualify for $5.00 off your first order.  Click HERE!
Things that we like to use for our Texas Standard Poodles
'Kennels'

Kennels / Dog Houses
Poodles love to be outside. They love to run and play and will beg to be let out. Standard Poodles can be sensitive to extreme heat and cold. So although they are a hardy dog and can live exclusively outdoors, please be mindful of the temperatures in Texas. We can have days that are freezing in the morning then a scorcher in the afternoon. These baby dogs could get a cold, just like humans. We like to give them a dog house that has a window unit AC in it – they are $300-$500, and a one time investment. They will last for years if you take proper care of them and your dog will have a house to live in that will keep him cozy and healthy. If they contract a virus outside, you will spend thousands trying to diagnose the problem and may never find out what caused the illness/death. Having a kennel handy will keep our puppy safe from hazards that are commonly found in your own back yard, like pesticides and herbicides. This is not cruel punishment provided they have clean water and food and their pen is maintained clean.

Standard Poodle Supplies
ALEXAPURE WATER FILTRATION SYSTEM $180.00
*** WATER: Clean water is essential. We are on a well and our dogs have not had city water with its chemicals and processing so we recommend you filter their water. They can get sick if they are taken off of good clean water and put on tap water right away. Although dogs have a strong composition, we choose to use clean filtered water so that if there should be a stomach upset, we are sure that water is not the cause.  Dogs can get urinary tract problems as they age so we recommend using filtered water for them.
WONDERCIDE $$$.00
Flea Control is something that can become important when you have animals. I found Wondercide to be the best solution for my dogs and cats. It is cedar based and not as toxic as many flea sprays and treatments. They have a product for your home, animal bedding, couches, rugs as well as for your animals. You can spray it lightly on their coat to keep fleas, ticks, flies and mosquitoes off your animals. I love it and they have all different scents. I use it in my dog house to keep the flies out of there. It totally works!!
REVOLUTION FOR Puppies and Kittens $$$.00
Fleas are part of life when you have pets, especially in Texas. Revolution is almost required during certain times of the year. After 2 pounds, you can treat these babies every month during the summer. Spray the outside of your house, but treat your baby when the fleas come around. www.PetsofOz.net can ship it without a prescription.

Pray for your Pets!
He will tend his flock like a shepherd; he will gather the lambs in his arms; he will carry them in his bosom, and gently lead those that are with young.
Know well the condition of your flocks, and give attention to your herds.
But ask the beasts, and they will teach you; the birds of the heavens, and they will tell you; or the bushes of the earth, and they will teach you; and the fish of the sea will declare to you. Who among all these does not know that the hand of the

Lord

 has done this? In his hand is the life of every living thing and the breath of all mankind.
The wolf shall dwell with the lamb, and the leopard shall lie down with the young goat, and the calf and the lion and the fattened calf together; and a little child shall lead them.
Standard Poodle; Standard Poodle for Sale; Standard Poodle breeders  in AL, AR, AZ, CA, CO, CT, DE, DC, FL, GA, HI, ID, IL, ID, IA, KS, KY, LA, MA, ME, MD, MI, MN, MS, MO, MT, NE, NC, NV, NH, NY, NJ, ND, OH, OK, OR, PA, RI, SC, SD, TN, TX, UT, VT, VA, WA, WV, WI, WY; Standard Poodle breeders; Traditional Standard Poodle; Parti Standard Poodle; Phantom Standard Poodle; Goldendoodle puppies; Bernadoodle puppies; Black Standard Poodle, Apricot Standard Poodle, White Standard Poodle, Parti Standard Poodle, Au Lait Standard Poodle, Brown Standard Poodle, Standard Poodles for Sale in  AL, AR, AZ, CA, CO, CT, DE, DC, FL, GA, HI, ID, IL, ID, IA, KS, KY, LA, MA, ME, MD, MI, MN, MS, MO, MT, NE, NC, NV, NH, NY, NJ, ND, OH, OK, OR, PA, RI, SC, SD, TN, TX, UT, VT, VA, WA, WV, WI, WY; Standard Poodle, for sale in Alabama; Standard Poodle for sale in Arizona; Standard Poodle for sale in Arkansas; Standard Poodle for sale in California; Standard Poodle for sale in Colorado; Standard Poodle for sale in Connecticut; Standard Poodle for sale in Delaware; Standard Poodle for sale in Florida; Standard Poodle for sale in Georgia; Standard Poodle for sale in Hawaii; Standard Poodle for sale in Idaho; Standard Poodle for sale in Illinois; Standard Poodle for sale in Indiana; Standard Poodle for sale in Iowa; Standard Poodle for sale in Kansas; Standard Poodle for sale in Kentucky; Standard Poodle for sale in Louisiana; Standard Poodle for sale in Maine; Standard Poodle for sale in Maryland; Standard Poodle for sale in Massachusetts; Standard Poodle for sale in Michigan; Standard Poodle for sale in Minnesota; Standard Poodle for sale in Mississippi; Standard Poodle for sale in Missouri; Standard Poodle for sale in Montana; Standard Poodle for sale in Nebraska; Standard Poodle for sale in Nevada; Standard Poodle for sale in New Hampshire; Standard Poodle for sale in New Jersey; Standard Poodle for sale in New Mexico; Standard Poodle for sale in New York; Standard Poodle for sale in North Carolina; Standard Poodle for sale in North Dakota; Standard Poodle for sale in Ohio; Standard Poodle for sale in Oklahoma; Standard Poodle for sale in Oregon; Standard Poodle for sale in Pennsylvania; Standard Poodle for sale in Rhode Island; Standard Poodle for sale in South Carolina; Standard Poodle for sale in South Dakota; Standard Poodle for sale in Tennessee; Standard Poodle for sale in Texas; Standard Poodle for sale in Utah; Standard Poodle for sale in Vermont; Standard Poodle for sale in Virginia; Standard Poodle for sale in Washington; Standard Poodle for sale in West Virginia; Standard Poodle for sale in Wisconsin; Standard Poodle for sale in Wyoming